Lachlan, formerly known as CraftBattleDuty, is a 21 year old Australian YouTuber that is part of the Pack. His Birthday is on the 25th of August 1995. He often records QnA's, Minecraft videos and much more. Like Woofless and TBNRFrags, he has a 2nd channel in which he plays variety of games such as ARK: Survival Evolved and Who's Your Daddy
He joined YouTube on March 19th, 2013, and since, he has gotten over 1,000,000 subscribers, and is still growing. He uploads daily on his main channel, and on his 2nd channel, he uploads every other day. He also owns a Minecraft Pixelmon server called 'Pokeballers'. He is also a co-owner of a factions server with Vikkstar123.
G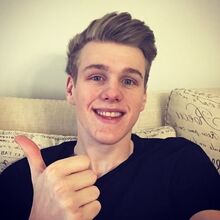 IP is mc.pokeballers.com
IP is TREASUREWARS.NET
Personal Life: Edit
Lachlan Power's birthday is on the 25th of August 1995 and is 21 years old. He has 1 younger brother with the name Mitch (the same name as 'BajanCanadian') he also has an older sister of the name Jackie. Lachlan now has over 2,000,000 subscribers and has the 'Gold Youtube Play Button'. He also has the 'Silver Youtube Play Button' and now both are hanging up in frames in his house. He is now at a rate of 2,048,000 subs.
History: Edit
Since the launch of the channel, Lachlan has gained over 1,000,000 subscribers. He is known to be the 'Ping Boy'. After a while, he became good friends with many of the Pack members, and started filming with them. The result was obvious, he gained thousands of more subscribers, and he became the popular Minecraft/Pokémon YouTuber he is now.
Servers: Edit

Lachlan owns a Minecraft Pixelmon server which he pays the operation for, called 'Pokeballers'. The system of the server is unique to other servers, and in order Red and Green version, and similar to the real Pokemon game, there are gym leaders, and wild Pokemon appear occasionally. The server is the most popular Pixelmon server in Minecraft, and Lachlan had a series on the server.
He also owns a server called 'Treasure Wars' which is a factions server. He has just started a new series with treasure wars against Vikkstar123.
Friends: Edit
These are people that Lachlan records with often.
These are the series that have been on the channel, or are still being posted.
Factions
Factions Season 2
Factions Season 3 Versus against Vikkstar123
Stranded Deep in Minecraft w/Vikkstar123
How to Minecraft 1,2 & 3
Skygrind
Pixelmon Mystery Dungeon
Pixelmon Island
Dinosaurs Season 1&2
Pixelmon Reloaded
Prison
CrazyCraft Season 1,2 And 3
The Mad Pack 2
HeroWars
SkyBlock
UHC (Ultra Hard Core)s
Crazier Craft