Brandon or PeteZahHutt is a friend of the members of the Pack, who plays Minecraft on his channel. He came up with the idea of his name from the famous fast food restaurant, Pizza Hut. He has only 1 YouTube channel, and he records and uploads daily Minecraft content on the channel. According to him, he will never kill Slimes or Magma Cubes unless it is absolutely necessary. The reason is obvious, because his Minecraft skin is a Slime wearing a headset and a suit on.
He joined YouTube in June 11th, and since he has gained more than 200,000 subscribers. He also owns 2 servers, and partly owns 1 server. He owns the Hutt, a mini-game server, and SorceryPvP, a Faction server. He also partly owns the server Minecade, and is OPed on the server, since he knows the owner of the server personally. He also was part of the Nexus owner group until he resigned on good terms.
Personal Life: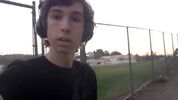 Brandon was born March 14th, and has 1 brother who has been mentioned in some of his videos. He lives with his parents currently, and unlike the Pack members, he goes to high school, and gets limited time recording. He also owns a dog that has been mentioned in couple of his videos. He has a girl friend, and her name is Kara, and she has been featured in many of his videos.
History
Brandon is a Minecraft YouTuber who used to play with some members of Team Crafted, but he has cut his connections with all of them except for Jerome and Mitch. (His name came from his brother's friend, Pete or Peter, and when they both made fun of the restaurant "Pizza Hut" with his name. He had to make an account name for his Minecraft account and YouTube channel, so he named it "PeteZahHutt") he's also done a BattleDome vid with Adam and Jason and they turned out to be good friends, but they haven't made a video together since. He is best friends with the NoochM (Mat) with their funny hunger games.
Server
PeteZahHutt is one of the owners of the server SorceryPvP the IP has not came out as they are still beta testing. He also owns a server called The Hutt, that is a complete mini-game server. However, Pete has abandoned the Hutt for unknown reasons, and he has cut the connection with the server. He is still considered owner, but does not go on the server. He also used to own a part of the Nexus, but he left the ownership and resigned for unknown reasons, but is still on good terms with the server, says that he plays on the server frequently.
Friends
These are people that Brandon records with often.
Series
These are the series' that Brandon has done in the past or is doing right now.
Trinity UHC
Mad Pack 2 w/Vikkstar123
Sky Grind w/ Woofless
UHC
How to Minecraft
Dungeon Realms
Walls
Super Craft Bros
Battledome
Capture the Wool
MMM