Preston Blaine Arsement (TBNRFrags or PrestonPlayz - Minecraft) is a Youtuber with two channels. TBNRFrags is mainly CoD and ore bloody games, while PrestonPlayz - Minecraft is just like its title; its made for Minecraft. His 3rd channel is called "PrestonGamez" but it is not active. He records with the pack using both of these channels.
His Minecraft skin is a "lava mob" wearing a fire hoodie.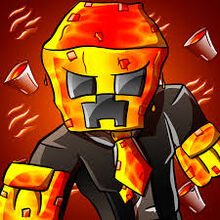 His birthday is May 4th.
He has been a part of many UHC's. (Ultra HardCore Mode in Minecraft.)
Youtuber 1.9 UHC - With Woofless (8th Place - Died 3/23/16- Started 3/15/16 - Died by PeteZahHutt)
Youtuber Double Health UHC - With Lachlan (Finished)
Youtuber Winter UHC (2nd Place - Finished - Winner: TBNRKenworth)
Watch his "Draw my Life" Video-https://www.youtube.com/watch?v=YMQ4yHBxNGI