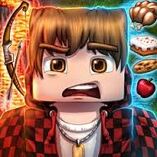 Mitchell Donald Ralph Hughes or TheBajanCanadian is a 21-year old gaming YouTuber that posts mainly Minecraft content on his channel. He is an ex-member of the group TeamCrafted and ASF, as well as The Power Moves Squad. He now has left both groups, and now is a member of the Pack. He most notably uploads Hunger Games with Jerome on his main channel, but he also does mini-games and other various type of games with the Pack or other Minecraft YouTubers.
Since he joined YouTube March 3rd 2010, he has gained over 4,000,000 subscribers. He owns a server along with Turqmelon, TheBajanCanadian, AlixrCraft, segkiller, kylern389, and Rhonim, called the Nexus, a multi-gamemode server, and is one of the biggest servers in Minecraft community, but has been going downhill since.
IP: hub.thenexusmc.com
Personal Life:
Mitch's birthday is March 3rd, and is known to make a YouTube channel on his birthday. He is known to have one brother, and he has made an appearance on many occasions, and there are pictures of him with his brother on Instagram. Like his name, he was born in Canada, but he currently resides in Florida with JeromeASF and temporarily with Lachlan while he has objectives to do in America. He met Jerome when he was in 4th grade, and they have been best friends since then.  Because of this, Jerome and Mitch has a fanfiction among the fans, called Merome, and Mitch has stated in his Twitter that this was in fact true.
Community content is available under
CC-BY-SA
unless otherwise noted.