Vikram Barn formerly known as Vikkstar123, is a 19 year old British YouTuber that is a part of the Pack and the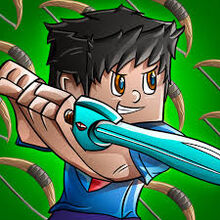 Sidemen. He records Minecraft mini-games, parkour maps and much more. Like [[1]], Vik has 3 channels. His Main Channel is for videos with the Sidemen, COD, vlogs etc. The second channel is his Minecraft channel, his third channel is for random games. Vik uploads daily on two of his channels occasionally streams in his Twitch Account. His Minecraft skin has a blue shirt with a white V at the back, on the front it has a diamond with blue on one half and red on the other.
Vikkstar123 created his Main Channel on April 12th 2010 and his Minecraft channel on June 1 2012 and he currently has 1.9 million subscribers on his Main Channel and on his second he has 1.5 million. He owns a server, called VikkCraft, and he records Hunger Games on it.
VikkCraft IP: Hub.VikkCraft.com